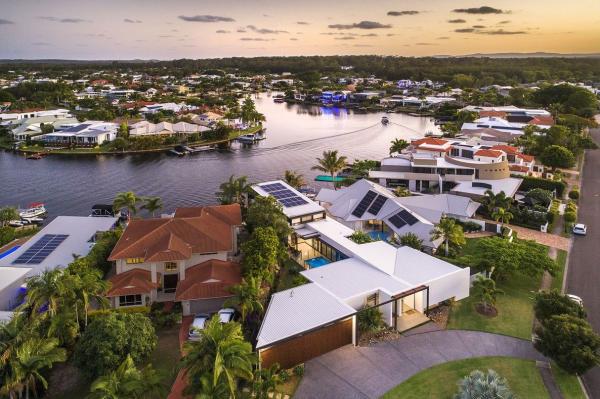 Erle Levey
There has been a massive response to a four-bedroom, two-bathroom waterfront house in Noosa that is to be auctioned this month.
The house at 6 Mermaid Quay, Noosa Waters, had 38 groups through at the first open for inspection before Christmas.
Marketed by Sam Plummer, Scott Cowley and Kelsie Melville of Noosa Estate Agents, the spectacular single-level home by designer Trevor Reitsma sits on 1099sq m.
"There has been genuine interest … even some offers,'' Scott Cowley said.
"A lot has been from Brisbane and locals, but also from New South Wales and Victoria.
"The address says a lot. And it's two-year-old house by Trevor Reitsma Design.
"It's a lovely home and Trevor did a great job designing it.''
Two living spaces have stunning views across the canal while the kitchen includes stone benchtops and butler's pantry.
It has the choice of covered outdoor entertaining by the pool and waterfront.
As well as the interest from open for inspections the property has attracted 15-20 private viewings, Sam Plummer said.
"There have been offers from Brisbane, Tasmania and local,'' she said, "but at this moment we are going to auction.
"There have been a number of inquiries from Victorians, and Sydney people making inquiries with the view of moving up here.
"Locals are looking to reposition themselves on the water.
"Essentially you are getting a new one-level home on the water.
"That is very difficult to get and we are really pleased with the activity has been generating.''
AUCTION ACTION
SATURDAY, January 2
Noosaville
2/34 James St: 2bed, 2bath, 1car free-standing villa, 11am, Sharon McLure 0400 084 975 Laguna Real Estate
FRIDAY, January 15
Noosa Heads
1/30 Grant St: 2bed, 1bath, 1car townhouse, 2pm, Rick Daniel 0411 737 767 Richardson & Wrench Noosa
Noosa Waters
9 Genoa Ct: 4bed, 2bath, 2car house, 3pm, Dean McLure 0499 270 691 Richardson & Wrench Noosa
Tewantin
103 Goodwin St: 4bed, 2bath, 2car house on 743sq m, 12pm, Rick Daniel 0411 737 767 Leanne Southwell 0423 955 624 Richardson & Wrench Noosa. Under offer
SATURDAY, January 16
Noosa Waters
6 Mermaid Quay: 4bed, 2bath, 2car waterfront house, pool, jetty, 11am, Sam Plummer 0412 585 494 Scott Cowley & Kelsie Melville 0414 544 420 Noosa Estate Agents
For a comprehensive look at the Noosa property market pick up Noosa Today on Friday.