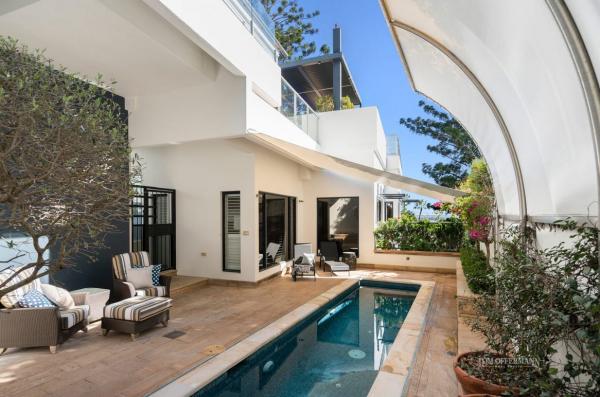 Erle Levey
NOOSA property continues to attract strong interest at auctions as quality offerings come to the market.
After 150 inquiries and Facetime viewings from interstate, overseas and locals during the campaign for the Chris Clout-designed 14 McAnally Dve, Sunshine Beach, more than 50 people turned up on in brilliant spring weather on Saturday.
Co-listed by Tom Offermann Real Estate's Tiffany Wilson and Roark Walsh, five registered bidders battled it out until the hammer fell at $6.8m to a thrilled local.
Similar success at the Jill Goode-listed penthouse-style apartment 2 at Alkira, 31 Noosa Dve, Noosa Heads.
Interest pre auction came mainly from Sydney and Melbourne, a crowd of 30 checked out the views while three registered bidders had their finger crossed.
After a 16-year ownership, it was sold to another family for $3.375m.
At apartment 17 Noosa Harbour Resort in Quamby Place on Noosa Sound, there were 30 on-lookers and three registered bidders anxious for investment opportunity success.
It was sold for $585,00 with ownership passing from locals to buyers from country New South Wales, who had Brisbane-based relatives bidding for them on the day.
Grandchildren playing on the beach during the auction, were very excited to find out Nanny and Pop now have a holiday apartment in Noosa Heads.
The private 56.28ha Riverpark Estate, at 36 Riverpark Dve, Ringtail Creek, is surrounded by national and water conservation parks, has a deep Noosa River frontage and is 25-minutes to Noosa Main Beach. The Robyn Reid listed property is now for sale at $3m.
REDEVELOP, RENOVATE
A gracious four-bedroom, two-bathroom, one-car riverfront house on 3166sq m at 21 Ward St, Tewantin, is set to go to auction at 1pm on Saturday, September 11.
Jill Goode of Tom Offermann Real Estate has been getting an "amazing amount" of interest in the property.
"We have been getting very good feedback,'' she said. "It's a very gracious property … stunning grounds, ivy-covered walls.
"There is a flat area on the riverbank that was a tennis court.
"It is on three blocks with great big rooms, big entertaining deck and gorgeous outlook over the river to the North Shore.''
NEW BRAND, NOT NEW NAME
It's a new brand in Noosa real estate but not a new name.
The McLure Group has been 10 years in the making.
Sharon McLure started in Hastings St and has built a reputation on transparency in negotiation as well as clear communication.
"What's paramount to a successful negotiation is daily communication,'' she said, "whether in an auction campaign or negotiation within any form of marketing strategy.''
Sharon said the decision to create her own real estate group was easy as she had built up such an amount of knowledge.
"I've taken on the best of what I have learned and will be using those skills to benefit our clients.''
Sharon's most recent six sales have all been under auction terms. Three were by virtual inspections from interstate buyers.
On Saturday, September 18, Sharon will take a one-bedroom, one-bathroom, one-car penthouse apartment 406/16 Noosa Dve, Noosa Heads, to auction at 2pm.
With a private rooftop terrace, it offers sweeping views of the ocean and North Shore around to the hinterland.
There has been early internet inquiry as well as inspections from Sydney interest with family in Noosa, and others who already own property within the Noosa Blue
resort.
"I've been flooded with inquiry,'' Sharon said. "Everyone has had lovely things to say.
"A two-week auction campaign gives a fair opportunity for all buyers to have the chance to focus on that.
"Fully furnished and generating a healthy income, a penthouse such as this is a rarity in the complex.''
NOOSAVILLE IN DEMAND
The Noosa River precinct at Noosaville continues to turn heads and see record prices.
Bettina Mertel at Laguna Real Estate has been receiving strong interest in the two-bedroom, two-bathroom, one-car riverside apartment 11/221-227 Gympie Tce, Noosaville, that is set for auction at 1pm on Friday, September 17.
Bettina sold two other apartments in the riverside complex in May-June to make five for the 12 months.
One went to auction and Bettina sold both straight after the event to a buyer who already had a holding in the complex.
"They can see the value of the position," she said. "It has direct river views.
"There is hardly anything else on the market with such an uninterrupted view."
The apartment is on the podium level, just a dozen steps up.
"It has been beautifully renovated, which is why so many want it," Bettina said.
"You can live in it but it has had such strong holiday bookings until the recent Covid lockdowns in the southern states."
Record prices are being achieved in the Gympie Tce precinct and offers have already been submitted for the apartment.
Most interest has come from Melbourne, Sydney and local, as well as from Brisbane.
Interstate inquiries have seen friends living in Noosa inspect the apartment as well as video inspections.
"Inquiry has continued throughout the year and the lockdowns in Melbourne at present mean there are no open homes down there.
"People tell me they want to secure a property and move when they can."
Another change has been the number of locals looking to invest in the Noosa market.
Previously, they were offering lower offers, Bettina said, but now they are realising strong offers are needed if they want to secure the properties.