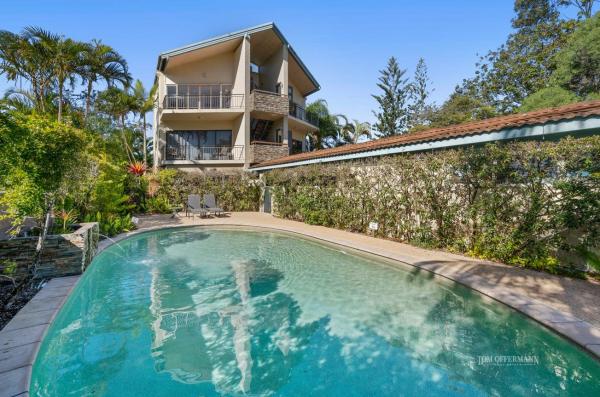 Erle Levey
It's a landmark Noosa Sound property – the first to be developed on what was formerly Hays Island.
That was in the early 1970s, before the Noosa Spit was constructed.
The auction of 7 Noosa Pde at 11am on Saturday, September 18, will allow for a new chapter to be written for the 1120sq m waterfront site.
It includes three two-bedroom residential apartments with a private jetty, plus a commercial office.
Chris Miller of Tom Offermann Real Estate said it was an honour to be marketing such a site that is linked with Noosa's development.
There is certainly strong interest in the property, he said, which is regarded as a once-in-a-generation opportunity to own and develop the whole site.
With parkland along the entire 55m eastern boundary and 20.2m water frontage as well as to Noosa Pde, the real attraction is what you do with it.
"People are being attracted by the size, the opportunity not only for a multi-dwelling redevelopment but a substantial single home with private garden, pool and outdoor living.
"They are looking forward to what can be done. There are so many opportunities including strong holding income in the medium term.
"With medium density residential zoning, it could be developed as two, three or four apartments of a size and finish to capitalise on the investment.''
Chris said it was interesting to see what has been happening in Noosaville with high-end apartments. But that has not been tested so close to Hastings Street without being on the beachfront.
"It's one of a kind. In a resort you have multiple owners but this is the opportunity to own and develop the whole site.
"The owners have progressively secured the four lots over a period of time.''
There has been international interest as well as a substantial portion from interstate but a really strong contingent of locals have been looking at that site for decades.
The site reflects the transition of Noosa Sound from when it was developed more than 40 years ago to what it is now.
In those early days Noosa Sound waterfront sites cost $14,000. What they are worth today will be tested on September 18.
READY FOR HORSE LOVERS
Tucked away at the end of a tree-lined driveway, a four-bedroom, two-bathroom house on 4.86ha at 175 Black Pinch Rd, Cootharaba, is achieving strong interest ahead of the auction at 1pm, Friday, September 10.
Graham Smith of Hinternoosa, who is marketing the property in conjunction with Kess Prior, said the campaign had been going well.
"We will have registered bidders,'' he said. "It's generating good interest.
The property is set up for horses with useable land, stables and direct access to the Noosa Trail Network.
Interest is coming from the Noosa hinterland, coastal areas and Brisbane.
The single-level house sits beautifully in the landscape, with a beautiful pool and direct view of the horses from the living areas.
The gently undulating property is mainly cleared and divided into three fully-fenced paddocks, with four horse stables, day yards and a round yard.
There is a permanent creek and a large dam with an electric pump.
AWESOME ARBOUR AUCTION
It was an awesome auction at 39 Arbour Pl, Doonan, last Friday, according to Hinternoosa's Kess Prior and Graham Smith.
The four-bedroom, two-bathroom house on 0.61ha attracted five registered bidders from $1.1m, Graham said.
"There were four on the ground – from the hinterland as well as coastal – looking to move onto small acreage.
A Gold Coast bidder opened at $1.1m and continued in $50,000s to $1.35m when new blood entered the contest but backed out and came in again close to $1.4m.
The phone bidder was out at $1.404, which left two on the ground.
It sold at $1.414m to a couple from the UK, who had been staying at Noosa in an Airbnb for much of the year.
SUNSHINE BEACH HAS CLOUT 
After 150 inquiries also Facetime viewings from interstate, overseas and locals during the campaign, for the Chris Clout-designed 14 McAnally Dve, Sunshine Beach, more than 50 people turned up on a brilliant Spring day.
Co-listed by Tom Offermann Real Estate's Tiffany Wilson and Roark Walsh, five registered bidders battled it out until the hammer fell at $6.8m to a thrilled local. 
Similar success at the Jill Goode-listed penthouse-style apartment 2 at Alkira, 31 Noosa Dve, Noosa Heads.
Interest pre auction came mainly from Sydney and Melbourne, a crowd of 30 checked out the views while three registered bidders had their finger crossed. After a 16-year ownership, it was sold to another family for $3.375m. 
At apartment 17 Noosa Harbour Resort in Quamby Place on Noosa Sound, there were 30 on-lookers and three registered bidders anxious for investment opportunity success. It was sold for $585,00 with ownership passing from locals to buyers from country New South Wales, who had Brisbane-based relatives bidding for them on the day.
Grandchildren playing on the beach during the auction, were very excited to find out Nanny and Pop now have a holiday apartment in Noosa Heads. 
The private 56.28ha Riverpark Estate, at 36 Riverpark Dve, Ringtail Creek, is surrounded by national and water conservation parks, has a deep Noosa River frontage and is 25-minutes to Noosa Main Beach. The Robyn Reid listed property is now for sale at $3m.
PROJECT IN WAITING
There is huge interest in a four-bedroom, two-bathroom, two-car house on 5751sq m at 2 Panorama Dve, Doonan, that is set for auction at 11am on Wednesday, September 15. 
"It needs work inside and out,'' marketing agent Lian Scott of Wythes Real Estate said.
"Some would remodel it … it's a really good blank canvas.''
Lian has received a lot of calls from interstate due to Covid lockdowns, especially from Melbourne and Sydney.
In an elevated position and set back from the road with a long driveway, the 1990s solid brick-and-tile home has a separate office and three living areas.
There are established gardens, a dam and good-sized powered shed.
REDEVELOP, RENOVATE
A gracious four-bedroom, two-bathroom, one-car riverfront house on 3166sq m at 21 Ward St, Tewantin, is set to go to auction at 1pm on Saturday, September 11.
Jill Goode of Tom Offermann Real Estate has been getting an "amazing amount" of interest in the property.
"We have been getting very good feedback,'' she said. "It's a very gracious property … stunning grounds, ivy-covered walls.
"There is a flat area on the riverbank that was a tennis court.
"It is on three blocks with great big rooms, big entertaining deck and gorgeous outlook over the river to the North Shore.''
NEW BRAND, NOT NEW NAME
It's a new brand in Noosa real estate but not a new name.
The McLure Group has been 10 years in the making.
Sharon McLure started in Hastings St and has built a reputation on transparency in negotiation as well as clear communication.
"What's paramount to a successful negotiation is daily communication,'' she said, "whether in an auction campaign or negotiation within any form of marketing strategy.''
Sharon said the decision to create her own real estate group was easy as she had built up such an amount of knowledge.
"I've taken on the best of what I have learned and will be using those skills to benefit our clients.''
Sharon's most recent six sales have all been under auction terms. Three were by virtual inspections from interstate buyers.
On Saturday, September 18, Sharon will take a one-bedroom, one-bathroom, one-car penthouse apartment 406/16 Noosa Dve, Noosa Heads, to auction at 2pm.
With a private rooftop terrace, it offers sweeping views of the ocean and North Shore around to the hinterland.
There has been early internet inquiry as well as inspections from Sydney interest with family in Noosa, and others who already own property within the Noosa Blue resort.
"I've been flooded with inquiry,'' Sharon said. "Everyone has had lovely things to say.
"A two-week auction campaign gives a fair opportunity for all buyers to have the chance to focus on that.
"Fully furnished and generating a healthy income, a penthouse such as this is a rarity in the complex.''
AUCTION ACTION
FRIDAY, September 3
Doonan
39 Arbour Pl: 4bed, 2bath, 4car house, on 0.61ha, Kess Prior 0404 344 399 Graham Smith 0408 874 888 Hinternoosa. Five registered bidders from $1.1m, sold at auction $1.414m
Ringtail Creek
36 Riverpark Dve: 56ha riverfront estate with deep Noosa River frontage and boat ramp, dam, Robyn Reid 0418 144 484 Tom Offermann Real Estate. Listed for sale at $3m
SATURDAY, September 4
Noosa Heads
2/31 Noosa Dve: 3bed, 2bath, 2car penthouse apartment, pool, Jill Goode 0418 714 653 Tom Offermann Real Estate. Three registered bidders, sold at auction $3.375m
U17 Noosa Harbour Resort, Quamby Pl: 1bed, 1bath apartment, Luke Chen 0417 600 840 Tom Offermann Real Estate. Three registered bidders from $480,000, sold at auction $585,000
Sunshine Beach
14 McAnally Dve: 4bed, 3bath, 2car house, pool, Roark Walsh 0437 447 804 Tiffany Wilson 0468 922 519 Tom Offermann Real Estate. Five registered bidders, sold at auction $6.8m
WEDNESDAY, September 8
Doonan
88 Redwood Rd: 5bed, 3bath, 2car house on 0.4ha, 11am, Mark Hodgkinson 0409 484 159 Reed & Co
FRIDAY, September 10
Cootharaba
175 Black Pinch Rd: 4bed, 2bath, 8car house, pool, on 4.86ha, 1pm, Graham Smith 0408 874 888 Kess Prior 0404 344 399 Hinternoosa
Noosa Heads
21 Bayview Rd: 4bed, 3bath, 2car house, pool, 12pm, Eric Seetoo 0419 757 770 Tom Offermann Real Estate
SATURDAY, September 11
Doonan
2 Bartle Frere Ct: 4bed, 3bath, 6car house, cottage, on 0.51ha, 3pm, Lian Scott 0402 221 823 Wythes Real Estate
Noosaville
5/173 Gympie Tce: 3bed, 2bath, 1car riverside apartment, 12pm, Luke Chen 0417 600 840 Tom Offermann Real Estate
Tewantin
21 Ward St: 4bed, 2bath, 1car riverfront house on 3166sq m, 1pm, Jill Goode 0418 714 653 Tom Offermann Real Estate
SUNDAY, September 12
Noosaville
20/140 Noosa Pde: 2bed, 2bath, 1car penthouse apartment, 11am, Eliza Coppin 0423 726 639 Tom Offermann Real Estate
WEDNESDAY, September 15
Doonan
2-10 Panorama Dve: 4bed, 2bath, 2car house on 0.58ha, 11am, Lian Scott 0402 221 823 Wythes Real Estate