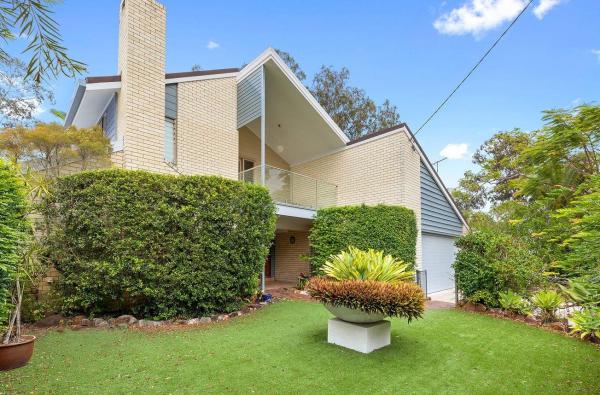 Erle Levey
People are ready to get on with life and are making decisions to buy into the Noosa market.
Mike Hay at Century 21 Noosa said buyers from within Queensland and across Australia were reassessing their lives in the wake of the Covid-19 upheaval and looking to a
The Century 21 team have three key auctions scheduled for today, Friday.
Timing of the auctions has been determined by the busy market and the chance to make a decision before getting too close to the holiday period.
They start with 50 Noosa Pde, Noosa Heads at 11am. The four-bedroom, three-bathroom waterfront house on 611sq m with jetty is a 1980s original designed by acclaimed Noosa architect Gabriel Poole.
First time on the market, this is an outstanding location and a once-in-a-lifetime opportunity to purchase a riverfront, north-facing position.
"It looks like being a cracker of an auction,'' Mike said. "There has been a massive response.
"It has garnered more attention than any in my memory, which stretches over 20 years in Noosa.''
There is local interest but also some big players nationally as well as overseas.
"I's certainly attracted the big end of town,'' Mike said. "Most are looking to build a dream home.
"The house is in excellent condition but the land is so valuable.
"It's amazing. The property has been lovingly maintained and enjoyed by the same family for three generations.
"The original owners bought the land and built the home.
"It has been maintained superbly – a good example of a solidly built house.
"And it comes with an insane view of the river.''
SELECT LOCATION
At 2pm Friday Mike Hay and Rachel Sellman of Century 21 Noosa will take the beach-style four-bedroom house at 12 Kareela Ave, Noosa Heads, to the market.
In a prized pocket of Little Cove, it's seen a meticulous renovation that has transformed it into a quintessential beach home.
"It's been beautifully done,'' Mike said, "with timber floors, plenty of natural light, north facing and backing onto the national park.
"Most interest has been local because of the location. A lot of people in Noosa aspire to live in Little Cove.
"Yet it's also been from far afield … Brisbane has been a very good source of inquiry.''
At 5pm on Friday Mike and David Conolly will put the five-bedroom, three-bathroom, four-car house with pool at 18 Wyuna Dve, Noosaville, to the hammer.
Beautifully renovated throughout and fully furnished, no detail has been overlooked, Mike said.
"There are not many dry blocks on Noosa Sound available and this is across the road from the best of the best.
"It has been completely renovated inside and out, including the pool.
"No-one has slept here since the renovations have been carried out.''
Interest has mainly been Brisbane, and people looking on Noosa Sound but not wanting waterfront.
RUSH TO SECURE PROPERTIES
Pre-auction inquiries and crowd numbers for auctions of Tom Offermann Real Estate-listed properties hit a high last weekend, with an earnest desire to purchase and/or move into their dream property before Christmas.
Such was the case at the Lauren Chen-listed 92 Shorehaven Dve, Noosa Waters, when a 60-plus crowd witnessed four bidders all hoping to cross it off their wish-list. However, it sold under the hammer to a couple from Kingscliff in Northern NSW who, after six months trying to join family and friends in Noosa Waters, finally succeeded – just in time for Christmas Day celebrations. The sellers are also excited with a move planned to a hinterland property in Lake Macdonald.
The Roark Walsh and Tiffany Wilson-listed 21 McAnally Dve, Sunshine Beach, attracted an excellent response pre auction including over 80 email inquiries and numerous developers. On auction day there were six bidders, and it sold for $4.45m to Sydney investors.
The Jill Goode-listed 19 Sail St, Noosaville, did not sell under the hammer, but immediately post auction an incredibly happy local family purchased it and will move in before Christmas.
WINNING STREAK CONTINUES
Tom Offermann agent Chris Miller's winning streak at Peppers Noosa Resort continued with two more sold under the hammer. This brings his total to a staggering 27 properties since January 2020.
The double auction took place in the Leighton Theatrette, just one of the fine conference and events facilities the resort offers.
The one-bedroom apartment 7320 was sold for $667,000 to ecstatic local buyers who against competitive bidding, secured their Noosa Heads investment property.
"The exceptionally strong response to the campaign highlights the demand for affordable investments in close proximity to Hastings Street which deliver such strong returns," Chris commented.
"I also received an incredible level of interest over the campaign for the three-bedroom Tree Top Villa 5102.
"This continued with seven local and interstate registered bidders."
It sold under the hammer for $2.4 million – a record sale price for this tightly held three-bedroom Tree Top villa category – to buyers from Victoria who have a long association with Noosa Heads.
STYLE BY THE WATER
Laguna Real Estate's Anne Powell is taking a four-bedroom, two-plus bathroom creekside house on 649sq m at 129 Lake Weyba Dve, Noosaville, to auction at 11am Saturday, November 27.
The modern home overlooking Weyba Creek and bushland, is spacious in design and fully air-conditioned.
Open plan living and a ground-floor main bedroom suite are big attractions, Anne said.
There is a media room and rumpus room/home office with rear access plus an 84sq m shed and carport.
"Housing design has been changing,'' Anne said, "and this place is an example of that.
"People are looking for lifestyle and this includes room for the boat or Winnebago.
"A lot of locals are eyeing it off … it has been so beautifully maintained and is a larger block with a big shed at the back.
"That's hard to find in Noosa.
"They are attracted by the outlook and tranquil setting yet being so close to Noosa Heads.
LIVE IN OR LET OUT
Sharon McLure at The McLure Group is seeing interest in the four-bedroom, two-bathroom, two-car house with pool at 7 Milpera Retreat, Noosa Heads.
On the market at $3.45m, the property is short-term accommodation approved so people can holiday let it or use for dual occupancy.
"It's an ideal family home,'' Sharon said. "… a big home with the parents retreat at the top, an expansive pool and two living areas.
"The poolside cabana is like a summer house. You could sleep in it if you wanted.''
Sharon has been doing private inspections, mainly locals looking for an investment.
ALLURING LOCATION
It's a great spot … 200m to the beach, perched in the rainforest in what is a tranquil setting.
Nic Hunter at Tom Offermann Real Estate is taking the three-bedroom, two-bathroom two-car house at 22 Little Cove Rd, Noosa Heads, to the market at 11am Sunday, November 28.
"What's not to love when Noosa National Park is right on the doorstep and the alluring Little Cove Beach is a three-minute walk,'' Nic said.
"This private, contemporary residence with bamboo floors, lofty ceilings, and a muted grey palette, is on-song.
"Less than four years old, the main bedroom, lounge and undercover terrace are on one level, while the family and friends accommodation is downstairs – this includes two further bedrooms and secondary lounge.''
Proximity to the beach is the main attraction and while Nic has received early offers from interstate the vendors are keen to go to auction.
AUCTION ACTION
FRIDAY, November 19
Noosaville
19 Sail St: 4bed, 2bath, 2car house, pool, Jill Goode 0418 714 653 Tom Offermann Real Estate. Passed in at auction. Sold immediately after
Sunshine Beach
21 McAnally Dve: 3bed, 2bath, 2car house, Roark Walsh 0437 447 804 Tiffany Wilson 0468 922 519 Tom Offermann Real Estate. Six registered bidders. Sold at auction $4.45m
Tewantin
37 Cullinane St: 4bed, 2bath, 1car house, pool, Jannell Chataway 0408 361 175 Laguna Real Estate. Sold prior, $1.1m
SATURDAY, November 20
Noosa Heads
7320/5 Morwong Dve: 1bed, 1bath, 1car fully-furnished apartment, Chris Miller 0412 894 542 Tom Offermann Real Estate. Sold at auction for $667,000
5102/5 Morwong Dve: 3bed, 3bath, 1car apartment, Chris Miller 0412 894 542 Tom Offermann Real Estate. Sold at auction for $2.4m
Noosaville
18/173 Gympie The: 3bed, 3bath, 2car townhouse, Sharon McLure 0400 084 975 The McLure Group. Two registered bidders. Passed in, negotiating with bidders and fresh interest
Sunshine Beach
1 Seamist Ct: 4bed, 4bath, 3car house, pool, Michelle van der Splinter 0413 582 670 Mike Hay 0417 624 059 Century 21 Conolly Hay Group. P/in $4.9m and negotiating with bidders and fresh interest
SUNDAY, November 21
Noosa Waters
92 Shorehaven Dve: 3bed, 2bath, 2car house, pool, Lauren Chen 0412 672 375 Tom Offermann Real Estate. Four registered bidders. Sold at auction $2.10m
FRIDAY, November 26
Noosa Heads
50 Noosa Pde: 4bed, 3bath, 2car waterfront house on 611sq m, jetty, 11am, Mike Hay 0417 624 059 Century 21 Noosa
1/81 Hastings St: 3bed, 2bath, 1car apartment, 1pm, Eric Seetoo 0419 757 770 Tom Offermann Real Estate
12 Kareela Ave: 4bed, 3bath, 2car house, pool, 2pm, Mike Hay 0417 624 059 Rachel Sellman 0422 719 041 Century 21 Conolly Hay Group
24 Las Rias, 8 Quamby Pl: 2bed, 2bath, 1car waterfront apartment, 3pm, Tom Offermann 0412 711 888 Tom Offermann Real Estate
Noosaville
11/2 Dolphin Cres: 2bed, 1bath, 1car townhouse, 4pm, Scott Cowley 0414 544 420 Kelsey Melville 0424 904 301 Noosa Estate Agents
18 Wyuna Dve: 5bed, 3bath, 4car house, pool, 5pm, Mike Hay 0417 624 059 David Conolly 0438 259 956 Century 21 Noosa
Noosa Waters
47 The Anchorage: 3bed, 3bath, 2car waterfront house, pool, 12pm, Jill Goode 0418 714 653 Tom Offermann 0412 711 888 Tom Offermann Real Estate
SATURDAY, November 27
Noosa Heads
5 Holly Hock Cres: 4bed, 2bath, 2car house, 4pm, Peter TeWhata 0423 972 034 Tom Offermann Real Estate
Noosa North Shore
340 Wallaby Track: 2bed, 2bath, 2car house, lake, on 23.97ha, in-rooms Laguna Noosaville, 11.30am, Roger Omdahl 0412 043 880 Laguna Real Estate
Noosaville
129 Lake Weyba Dve: 4bed, 2+bath, 3car creekside house, 11am, Anne Powell 0419 332 973 Laguna Real Estate
SUNDAY, November 28
Noosa Heads
22 Little Cove Rd, Noosa Heads: 3bed, 2bath, 2car house, 11am, Nic Hunter 0421 785 512 Tom Offermann Real Estate
23 Allambi Tce: 4bed, 3bath, 2car house, pool, 12pm, Luke Chen 0417 600 840 Tom Offermann Real Estate
WEDNESDAY, December 1
Noosa Waters
3 Topsails Pl: 4bed, 3bath, 2car waterfront house, pool, jetty, 12pm, Adrian Reed 0409 446 955 Darren Neal 0401 212 505 Reed & Co